To provide the transformer manufacturing industry with top-quality, Canadian-made core-winding machines that help their operations to run smoothly… and tailored service plans to maintain that standard. We pledge to work with our clients to understand their unique needs and provide innovative solutions, because our commitment to reliability is lifelong.
Fast, reliable core-winding solutions
Wound magnetic cores have been used in the design and manufacture of distribution, small power and instrument transformers for over 50 years.
Since 1974 TRANCO Production Machines Ltd. has been serving the transformer industry, fostering a worldwide reputation for superior product designs and customer service.
TRANCO Core-Winding Machines automatically produce wound cores using a continuous feed process. As a result, the wound core becomes more efficient to produce than the less efficient "cut and stack" core.
With adjustable machine settings, core manufacturers are able to produce a wide variety of consistent gap patterns to their desired specifications, making production more flexible… and more effective.
Effective production depends on a variety of solutions to meet unique production needs and budgetary requirements. Our suite of solutions has recently expanded to better serve the global market. In addition to our new machines, Clients can also experience the production efficiencies of a TRANCO core-winding machine by having an existing machine retro-fitted by us to current technology levels. Or, when availability exists, they can purchase a used machine, previously owned and reconditioned at our plant in Canada to ensure optimal production speeds.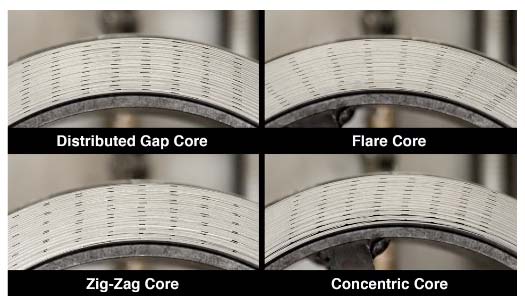 Core-Winding Machine Components
All our parts are custom-built to our specifications, from original drawings.
Watch this brief video to see a core being produced on the TRANCO SD 1036 core-winding machine, running at 400 ft. per min. You can also learn about recent innovations at TRANCO and hear more about our commitment to the core-winding industry.
Product Benefits
Parameters easily set
Adjustable machine settings
Wide variety of gaps
Consistent gap patterns
Meets rigorous specifications